WoofBeach PALMS DOG NAIL GRINDING GENEVA, IL
BOOK AN APPOINTMENT TODAY FOR DOG NAIL GRINDING
CALL 630-389-9610

Our Passion
Here at Woofbeach Cove, our compassionate understanding, patience, and love for dogs goes into every single dog grooming.

Certified Staff
With a fully certified staff we have the skills and knowledge to do that custom cut you've always wanted.

Relaxing Facility
With our beach vibe you can be sure that your dog will come back wanting more and you'll have peace of mind!

Save With Us
Book online now, and remember breed cuts, weird cuts, we do them all.
See you at the beach.
Dog Nail Grinding Geneva, IL
Are you hearing a lot of "clicking" sounds as your dog walks across your kitchen floor or other hard surfaces in your home? Those telltale sounds typically mean that your canine friend is due for Dog Nail Grinding Geneva IL. An alternative to clipping that simply grinds the nail down gradually to a safe and comfortable length, nail grinding is just one of the many walk-in services offered at WoofBeach Palms, located at 716 West State Street.
Your dog's nails serve important functions, like providing helpful traction as your pet walks or runs around in your yard. Nails are made of keratin, which is a protein comprised of dead cells. There are live nerves and vessels within the nail, however, that if accidentally cut can cause pain. Our groomers are experienced in Dog Nail Grinding Geneva IL, so your dog can be assured of a pain-free experience at WoofBeach Palms. With professionally-trimmed nails, your dog's feet will be in good condition and you won't be hearing that "clicking" noise quite as much around the house!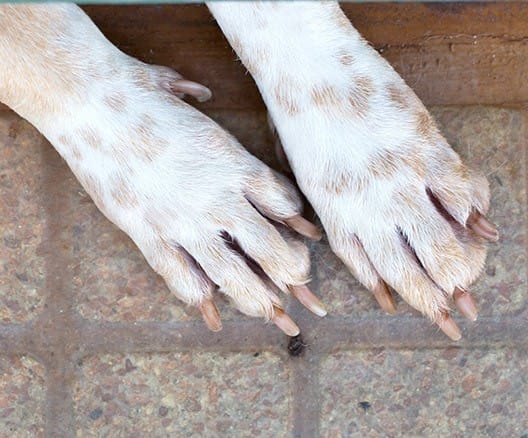 Our walk-in service hours are from 10 a.m. to 3 p.m., designed for the convenience of our customers. Along with Dog Nail Grinding Geneva IL, WoofBeach Palms also offers:
Dog Ear Cleaning – If your dog has been scratching his ears frequently, or if his ears are showing building of dirt and wax, a cleaning by WoofBeach Palms is the perfect solution. While issues like activity and amount of time spend outside varies among dogs, most can benefit from an ear cleaning once per mouth.
Dog Teeth Brushing – Just like their owners probably hear from their own dentist, regular cleaning by a professional groomer is essential for a dog's oral hygiene. Cleanings at WoofBeach Palms will help prevent plaque and tartar from building up and keep your dog's teeth strong and healthy.
Healthy Dog Equals Happy Dog
Stop in at WoofBeach Palms today – or call for a grooming appointment at 630-389-9610.