BOOK AN APPOINTMENT TODAY WITH WOOFBEACH PALMS
CALL 630-389-9610

Our Passion
Here at Woofbeach Sands, our compassionate understanding, patience, and love for dogs goes into every single dog grooming.

Certified Staff
With a fully certified staff we have the skills and knowledge to do that custom cut you've always wanted.

Relaxing Facility
With our beach vibe you can be sure that your dog will come back wanting more and you'll have peace of mind!

Save With Us
Book online now, and remember breed cuts, weird cuts, we do them all.
See you at the beach.
WoofBeach Palms Professional Dog Care Geneva, IL
We are a family owned and operated business dedicated to serving Geneva IL and the Fox Valley area with excellent pet care! Since the first day we opened WoofBeach back in January 2012 it's always been our aim to treat each customers and their beloved four-legged, tail-wagging companions just like part of the family.
As longtime pet owners ourselves, the WoofBeach Palms Geneva IL understands that when you are going to be out-of-town for a while, the issue of dependable dog care can be a source of concern. After all, you need to feel assured that your pet is receiving top quality care so can enjoy that vacation or be at your best during a business trip. When your pet is in the professional care of WoofBeach Palm's experienced staff of Certified Canine Behaviorist and Certified Dog Groomers, rest assured they are in a comfortable and pet-friendly environment!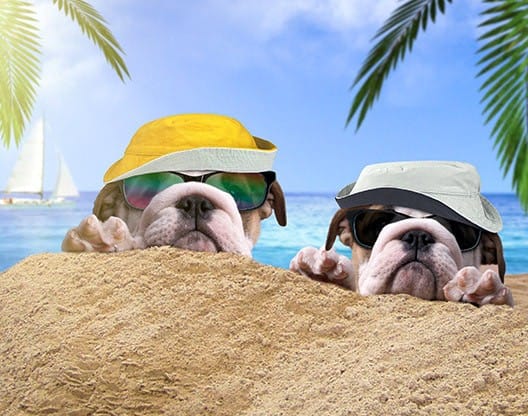 At WoofBeach Palms Geneva IL, our expert services are all a part of our:
*Relaxed, worry-free facilities. Once your dog becomes familiar with our "beach vibe," your faithful pet will feel at home in the sand be eager to come back for more!
*Trained and certified staff members. With our knowledgeable staff of trained pet care professionals, we can provide that "customized cut" you've wanted for your dog – even that show cut or breed cut you've seen on televised dog shows and competitions!
*Save money on your pet grooming and dog training expenses. Book online with us – WoofBeach Palms Geneva IL offers very reasonable rates on all of our professional services.
Healthy Dog Equals Happy Dog
Passion for our work and dedication to great service. Our patience and expertise with dogs and dedication to their comfort and care goes into every groom or training session we perform.
Call now at 630-389-9610 and schedule your dog's next groom with us!